There is no denying that the pandemic has changed the way we live. Chances are you left the office for working at home, and the kids attended school right from their bedroom. When we reconsider how we use our space, for many of us flex space and multipurpose furniture is the answer.
Design around your Needs
Take a moment to think about the best use of your space to fit your needs. If you need a home office as well as a workout space, you can compartmentalize each area with a L-shaped computer desk that creates a physical barrier and acts as a room divider. You can also paint the walls in your workout space a different color than the home office area.
Meerveil Retro Industrial Computer Table, L-shaped, with Monitor Stand
50% OFF for Black Friday Sale
Code:MEERVEILBF50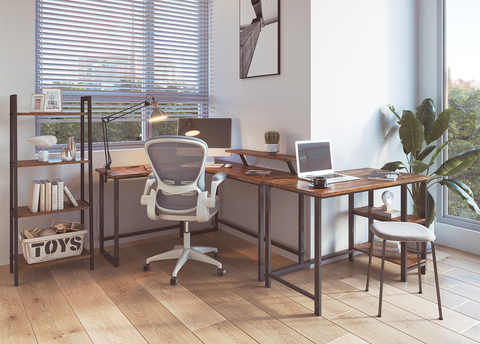 Here is the retro computer table with wooden grain designed by Meerveil.
It can divide your room corner area into 2 different parts smartly.
The simple and stable computer desk with a wide desktop is easy to assemble.
Novel Design, Retro & Fashion Industrial Style.
Rethink the Guest Room
When you think about it, keeping a guest bedroom waiting for the occasional overnight visitor does not make sense these days when space is at a premium. If you have a free wall, a desk pictured below can blend well with a traditional or transitional bedroom furniture in a guest room. Adding a desk can create a home office in the guest room while keeping the furniture you will need for visitors.
Meerveil L-shaped Computer Corner Desk, Grayish-white, with 2 Storage Shelves
40% OFF for Black Friday Sale
Code:MEERVEILBF40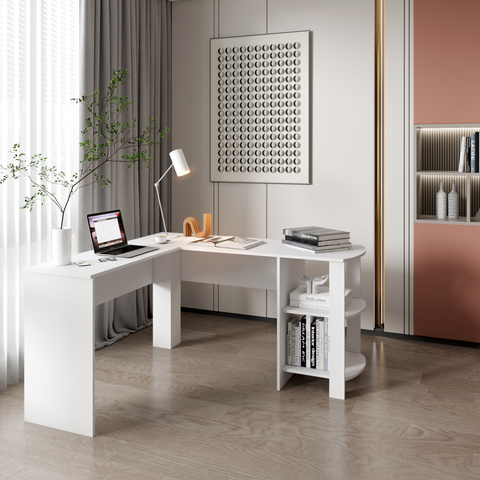 Thanks to the L-shaped design, this desk can make the most of the corner space and bring more convenience to your daily work.
Large area for working, studying, and gaming. Can put 3 PC monitors on, which is perfect for gaming.
Ideal for both desktop computers and laptop computers, dual tabletop areas keep your workspace clutter-free.
Fits perfectly in small space corners providing maximum space meanwhile.
Solid and anti-deformation material offers greater durability and stability.
Use Multifunctional Furniture
Meerveil Multifunctional Ladder Shelf, Antique Wood Grain Color
30% OFF for Black Friday Sale
Code:MEERVEILBF30
This versatile piece of furniture is ideal for storing and storing photo frames, books, toys, bells, decorative items, skincare products, books, magazines, bathroom items, and more.
Living Room: Fill the shelves with unique knick-knacks, it will become the center of attention of the house.
In the study or office: Order books, documents, etc. always at hand.
Bathroom: Organize washcloths, products, shampoos, etc.
Balcony: Show off your plants, fishbowl, etc. creating a corner of peace.
Finding the Right Furniture
If you are transforming your home into a multi-purpose living space, you will find what you need including multifunction ladder shelf in Meerveil at Home Living Furniture. Besides, all of products are up to 50% off and free shipping sitewide now.
To visit more details about sales, please click here!